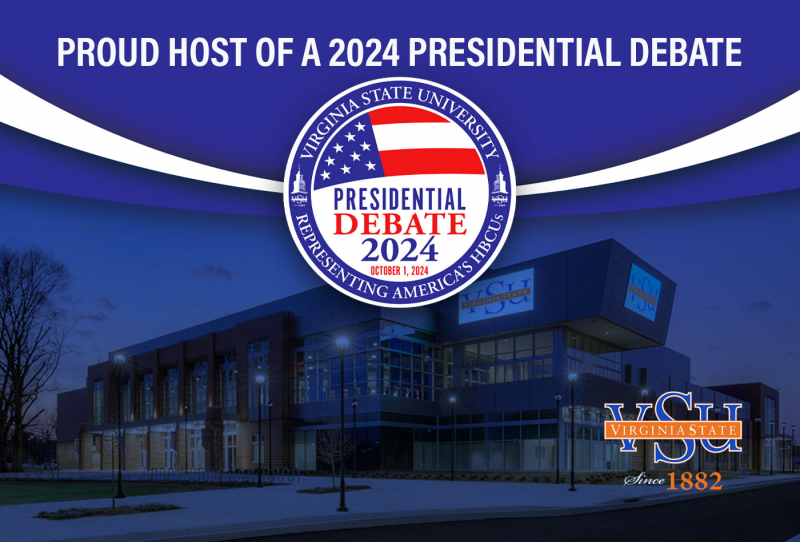 Virginia State University Makes History As The First HBCU In The Country Selected To Host A General Election Presidential Debate
VSU has been chosen by the Commission on Presidential Debates to host a 2024 Presidential Debate.   
Virginia State University is proud to announce that it has been chosen by the Commission on Presidential Debates to host a 2024 Presidential Debate. This is a momentous occasion for VSU, as it is the first Historically Black College or University (HBCU) ever selected to host a General Election U.S. Presidential Debate. The debate, scheduled for October 1, 2024, is the second of three scheduled general election presidential debates.   
"We are honored and grateful to have been chosen as a host for a 2024 Presidential Debate," said VSU President Dr. Makola M. Abdullah. "This is a historic moment for our university and for HBCUs nationwide. Our university mantra is "Greater Happens Here," and we look forward to welcoming the candidates, the Commission on Presidential Debates, and the entire nation to the GREATER at VSU." 
The selection of VSU as a host for a 2024 Presidential Debate reflects the university's commitment to shaping future leaders and cultivating political discourse. The debate will provide a platform for the candidates to present their policies, engage in constructive dialogue, and showcase their leadership abilities. 
While VSU recognizes that a tremendous amount of preparation goes into hosting a national debate, it is extremely honored and excited to be a part of meaningful conversations on important issues that impact the nation.  
VSU welcomes the opportunity to uphold its reputation for advancing social justice and shaping future leaders. The university also hopes to leverage this opportunity to reinforce campus conversations, listen and learn about varied viewpoints, and further exhibit why we are a leading institution in higher education.  
"We have always been committed to excellence, inclusivity, and civic engagement," said Eldon Burton, VSU Assistant Vice President for Government Relations. "This incredible achievement will undoubtedly leave a lasting impact on the campus community, the university's reputation, and the nation as a whole. Now people will know that not only does Greater Happen at VSU, but history happens here as well." 
The debate will take place on Tuesday, October 1, 2024, in the VSU Multipurpose Center, a state-of-the-art facility that is well-equipped to accommodate such a high-profile event. With its advanced audiovisual capabilities and modern amenities, the university believes the Multipurpose Center is an ideal venue.  
As the date of the debate approaches, VSU will provide more updates as they are announced by the Commission on Presidential Debates. The university eagerly anticipates working closely with the Commission to ensure a successful and smooth event.   
Founded in 1882, Virginia State University is a public, historically black, land-grant university offering academic programs to prepare its more than 5,100 students to be 21st-century innovators and future leaders with the knowledge and insight necessary to change our world. Virginia State University, Virginia, is located 20 minutes south of Richmond, in southern Chesterfield County, on the Appomattox River overlooking the City of Petersburg. The campus features a 231-acre main campus plus Randolph Farm, a renowned 412-acre agricultural research facility. Virginia State University is accredited by the Southern Association of Colleges and Schools Commission on Colleges.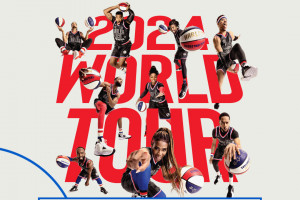 Harlem Globetrotters 2024 World Tour